6. Position Last Layer Corners
We have almost finished solving our Rubik's Cube. Only the yellow corners remained which we are going to sort out in two steps. First we have to relocate them and we'll orient them in the next step.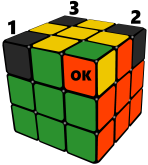 U R U' L' U R' U' L
This trick cycles the corners marked with the numbers on the image above, while the Front-Right-Up corner, marked with "OK" stays in place.
When you reach this point in the solution look for a corner piece which is in the right place. If you found one then reorient the cube in your hands so it is on the OK position and perform the formula. In some cases you have to apply it twice.
If there's no yellow corner on the right spot then do the algorithm to reorganize the corners and then look around again because there must be one this time.
An interesting fact is that in this step the number of pieces in the right spot can only be 0, 1 or 4.